| | | | | |
| --- | --- | --- | --- | --- |
| No. | Name | Designation | Degree | E-mail ID |
| 1 | Dr. S.K. Soni | Assistant Professor | M.ch ( Plastic and Reconstructive Surgery ) from BJMC, Ahmedabad | drsksoni1985@gmail.com |
| 2 | Dr. Brijendrasinh K. Rana | Resident Doctor ( R2 ) | M.S ( General Surgery ) | drplatinum_lion@yahoo.co.in |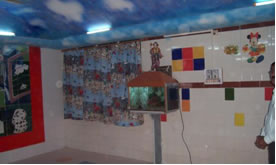 - Out door patient department
- Well equipped ward with capacity of 35 beds with central oxygen facility available at 7 beds.
- State of art paediatric plastic surgical ward made by considering needs of paediatric patients having toys and aquarium with specially painted walls which keeps paediatric patients cheerful. This ward has capacity of 7 beds. We, at the department of Plastic surgery SSG Hospital and Medical College Baroda are committed to helping children and their parents in a compassionate and professional atmosphere.
- OT is well equipped with digital tourniquet, digital cautery systems with monopolar and bipolar probes, Image intensifier television, craniofacial drill systems, operating microscopes, ceiling mounted operation lights and other instruments which enable us to deal with all types of complex cases in the best possible way. We have such three major OT and two minor OT with one dressing room.
- Following is the list of operations routinely done at the department:
1. HAND:
A. FINGER:
Soft tissue surgery
Phalyngeal fractures CRIF
Phalyngeal fractures ORIF
Shortening & closure
Metacarpal fractures CRIF
Metacarpal fractures ORIF
Phalymgeal and metacarpal fractures with tendon repair:
Neurovascular repair
Nailbed reapir
Flaps
- cross finger flap
- local rotation
- dermosdipofacial
- V-Y advancement
- Venkatswami
- DMCA
- Nitler's
Reinplantation
Pyogenic granuloma
B. Forearm:
Laceration
Tendon repair extensor
Tendon repair flexor
Tendon + nerve and /or artery repair
A-V fistulaes
FTSG
STSG
Flexor tendon pulley release
Tendon transfer
Ganglion
2. HEAD AND NECK:
Lacerations
STSG
FTSG
Ear lacerations
Eyelid laceration
B.Maxillo facial fractures
Mid facial fractures
Lower face fractures
Complex fractures
Plate removal
C. Soft tissue surgeries
D. Cosmetic surgeries
Fat injection
Scar revision

E. FLAPS:
Local juries
Nasolabial
Mucosal advancement
Temporal artery
Occipital artery
Forehead
DP
DP+PMMC:
RAFF
Free fibulae
3.Cleft Lip and palate
Tongue tie
Cleft lip repair
Cleft palate repair
Palatal fistulae repair
Open tip rhinoplasty
CLP Gr3

4. Hypospadias
Hypospadias repair
Urethral fistulae repair
Urethral stricture
5. Hand anomalies
Polydactily
Syndactily
Cleft hand
6. Foot anomalies
7. Post burn contractures:
Hand
Elbow
Axilla
Neck
Knee
Scarring face
Scarring on trunk
8. Upper extremity:
Flaps:
- local FC flap
- abdominal flap
- groin flap
- Lumber FC flap
- LD peddicled flap
- Free LD flap
- Free fibulae flap
9. Lower extremity:
STSG
FLAPS:
- sural
- gastrocnemius
- faciocutaneous
- perforator
- Cross leg flap
- Free ALT
- Free RAFF
10. TRUNK:
Soft tissue surgeries
TRAM
LD
Gastrocnemius
11. Ear Lobe Repair
12. Bed sore
13. Brachial plexus injury
14. Hair transplantation
15. Microtia
16. Prominent ear
17. Leprosy
- claw:
- nerve biopsy:
- plantar ulcer:
- amputation:
- lagophthalmos:
18. Citoroplasty:
19. Vaginoplasty:

2 seats of M.Ch plastic surgery has been recognised by MCI. We have one post of professor, one post for associate professor and one post for assistant professor in the department.

- The department is actively involved in promoting health education & social awareness about burns, common congenital anomalies, trauma management and cosmetic surgical procedures. Towards this end, we are helped by students of Department of Social Work, M.S University, Vadodara We have started cleft family projects, Rehabilitative surgery for leprosy patients.
- Library consists of 166 books.
- We are also having a video library

A study of A-V Fistula as a vascular assess for haemodialysis
- A study of post Hansen's claw deformities of upper extremity
- A study on metacarpal fractures
- Fistulas in Hypospadias surgery- use of tunica vaginalis flap as water proofing layer
- Role of dilatation reducing incidance of post operative fistulaes in hypospadias surgery.
- Home made goniometer-simple yet economical.
- Simple modification of web space splint for post burn web space contracture release patient
- A study on role of STSG and Z plasty in post burn first web space contracture.